I thought this event might be of interest to members of this group. Got any good invasive species recipes you'd like to try out? Come on out and have some fun with eating invasive species!

--
Tom Kaye, PhD
Executive Director
Institute for Applied Ecology
563 SW Jefferson Ave, Corvallis, Oregon 97333-4602
541-753-3099 ext. 111 www.appliedeco.org
Please "Like" us on Facebook!
Associate Professor (courtesy)
Dept. of Botany and Plant Pathology
Oregon State University
2087 Cordley Hall, Corvallis, Oregon 97331
Avoid the Line, Get Your Tickets Online!
Get Your Tickets Today! We are getting excited to sample amazing, creative dishes that help native habitat restoration! We will have a roast pig, side dishes, and your potluck dishes! You'll not likely find Roast Nutria or Invasive Crayfish Etouffee, not to mention a Queen Anne's Lace and Blackberry ale, anywhere else!

What will YOU Bring? We asked that each group brings a potluck dish - with our without an invasive species!

Win a Prize! To enter the Cook-off, bring a dish in one of four categories: Savory Meat, Savory Vegetarian, Dessert/Sweet, Beverage. Click here for details!

Haven't yet made it to our Eradication by Mastication Cook-off? Check out Oregon Field Guide's segment!
Forward this email to friends - Keep up with our Facebook Event

We need YOU to volunteer at the Cook-off - a fun way to be involved! Email michelw@appliedeco.org!
Tickets are a suggested donation of $10 - $50/person at the door.
Your donation is a tax deductible gift to the Institute for Applied Ecology!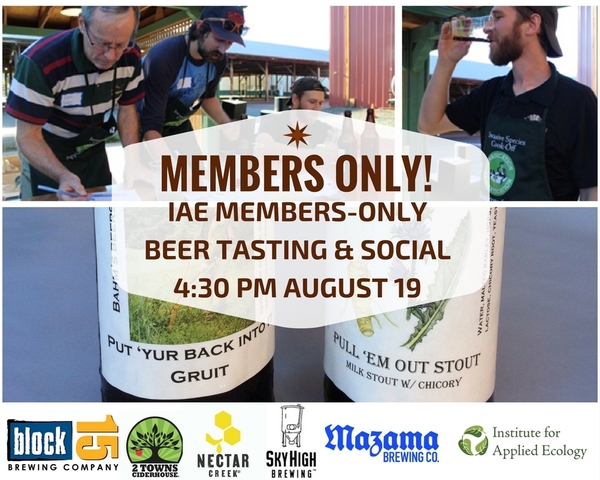 If you're an IAE member, join us at 4:30 pm before the Cook-off for an Invasive Species Beverage Tasting & Social (beer, cider, mead, and wine)

to thank IAE members who support our work.
Check the box to RSVP for this Social when you get your tickets!
Click here to become an IAE member to join in the fun!


This is our annual fundraiser to put native habitat restoration, research, and education into action. We hope to see you there! Can't attend this event but want to support our mission? Click here!

Help us thank our business sponsors that help make this event a fundraiser!